Wow, what great feedback I got from you, my Marketing Tips readers!
It seems that the stinky fish customer service story really hit a note with you.
After all, everyone has been on the receiving end of poor customer service at some time or another.
(And if a company has bad customer service, then all the money spent on glossy brochures and slick websites is wasted.)
How to give your customers a great story to tell about your business…
The flip side of story telling is that a good story also gets passed around.
(Yep, that's positive marketing you can get for free!)
But how can you get your customers to proactively tell other people a positive story about your business?
There's a methodology in generating a positive word-of-mouth story
There are specific steps you can take to give your customers a great word-of-mouth story to tell their friends. I call this giving your customers 'Mentionitis', because they get a buzz out of telling the story!
The Leaky Bathtub eBook guides you through this word-of-mouth methodology step by step. There are also lots of examples so you can see how the storytelling works in different industries. Invest in your copy today.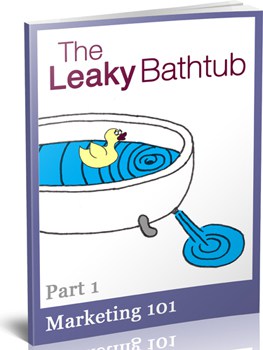 Till next time,
Cornelia Luethi  BSc (Hons), DipM
Author of The Leaky Bathtub
PS. One reader loved this book because it's "so easy to read and understand as it's written in plain, non-marketing guru language for us non-marketing people".
See more details of how The Leaky Bathtub can grow your business…