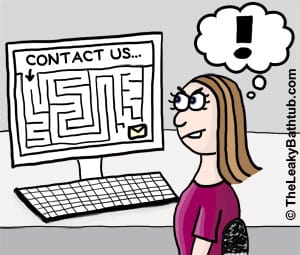 How do you feel about "CAPTCHA" forms?
You know, those awful, illegible "words" that you have to type in on some websites (usually on enquiry forms).
About CAPTCHA…
CAPTCHA stands for Completely Automated Public Turing test to tell Computers and Humans Apart"… or in other words, it's a test to check that it's a human filling in the website form, not an automated spam robot.
Guilty till proven innocent
To me, it seems totally rude to ask your website visitors to waste their time trying to interpret these frustrating eye-tests.
I mean seriously, what next? Do prospects also have to jump through hoops of fire to contact you?!
An example of a terrible CAPTCHA…
Here's an example I had to contend with recently:

Nope, I have no idea what it says. They're not even real words, for goodness sake!
This was from a website that I had to use to fulfil a job for a copywriting client.
Every time I hit 'refresh' the CAPTCHA had the same level of gobbledygook as this. And there was no audio version for people with hearing problems… it's rude, rude, rude!
Are you really that worried about spam?
If you have a half decent email system, most spam will get filtered out automatically. I use Gmail (via Google Apps) as my email provider, and I'm really happy with the spam filtering. 
The supplier I used previously wasn't so good, but personally I'd rather delete a few spam emails than make it so ridiculously hard for people to contact me.
There's a better way: the spam honeypot
Disclaimer: I'm not a website programmer; I'm just repeating information my awesome web designer has shared with me.
Instead of the "guilty till proven innocent" approach of CAPTCHA, there's another method called the "spam honeypot" that seeks to trip up robots (not humans). Hurrah!
The way it works is that a hidden text field is added to Contact forms. This field is invisible to human users, but the spam bots aren't aware of this, so they will insert something into that form. The system then knows that this was a spammer, and you'll never even see the spam.
Cool, huh?
It is effective (and something that's used on this website).
So please, instead of using annoying, frustrating and rude CAPTCHA forms… ask your web developer to use nice and unobtrusive spam honeypots instead!