An investment in article writing can benefit your business for years to come. That's because articles have so many uses and purposes: they help with attracting attention, converting prospects, and retaining your existing customers. Here's how: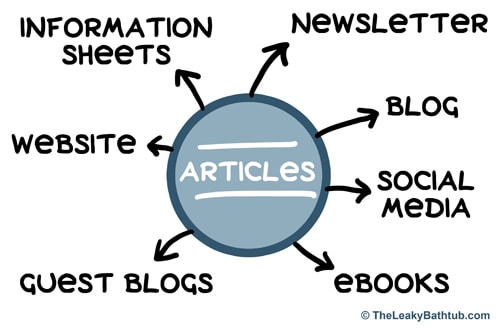 1. Newsletter content
Include the article in your newsletter as it'll remind existing clients of your expertise. Good quality articles add value to the relationship with your clients, and put you ahead of your competitors.
If you regularly send your clients quality articles, in time it will help to increase both your customer retention and word-of-mouth referral rates.
2. Website and blog articles
Having an informational article on your website or blog will be appreciated by both your readers. These readers could be existing clients, or they might be prospects who are umming and ahhing about contacting you. A meaningful article might just prompt them into taking action.
Customers and prospects aren't the only ones who'll appreciate your articles: so will the search engines. They rate websites that are rich with unique, high quality information, and if you regularly add well-written articles, you should see your website rankings increase over time.
Top tip: use keywords in your website articles that you haven't used before – this is a great opportunity for SEO, and to boost your site's visibility on search engines.

3. Social media updates
Once the article is on your website or blog, it's a doddle to link to it and share it on Facebook, Twitter, LinkedIn, Google+ or any other social media network. It can be a good way of driving more traffic to your website.
Seeing your article on social media sites not only reminds existing clients of your expertise (and help your customer retention rate), but it may even introduce new prospects to your business
4. Free reports and eBooks
What do you call a collection of articles? It's a book! You could put your content into an eBook format, and either sell it online, or give it away to clients and prospects.
5. Information sheets
Put your articles into an Information Sheet format with your logo on the front, and all your contact details in the footer of each page. You can then give these Information Sheets to prospects at sales meetings, or send a PDF copy after the sales meeting.
By adding value in this way, and proving your expertise, this inexpensive method can boost your sales conversion rates.
6. Guest blogging
Other websites and blogs are always hungry for content, and if you can get your article in front of a targeted, quality audience, it can (a) drive more traffic to your own website, and (b) introduce new prospects to your business.
There are various ways to make this work, but the most important thing is that you edit the article (and its headline) before you post it elsewhere. Remember how I said in point 2 that search engines like unique content? The search engines actually downgrade sites that have 'duplicate content'. So if you get the opportunity to post your work elsewhere, make sure that you edit it – and that the article or byline includes a link to your own website!
7. Articles appeal to both new prospects and your existing customers
A marketing tactic that helps with customer retention, referral rates and introduces new customers to your business – what's not to love?! Article writing is an investment that can yield you returns for a long time to come.
Why choose Cornelia's article writing service?
Cornelia has helped many customers with article writing, and have written hundreds of articles over the years – including articles published in a number of magazines.
Time is taken to research the topic and craft an article that's geared to your business objectives. The work often includes some keyword research to find a suitable focus keyword to help the SEO of your article, if it's for your blog or website.
Need photography to go with the article? I can help you find a great stock photo.
Check out my content writing and article writing portfolio.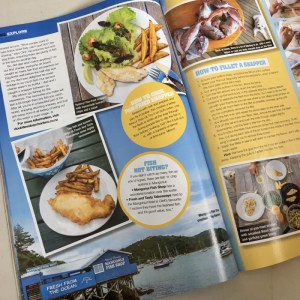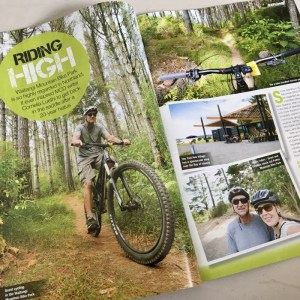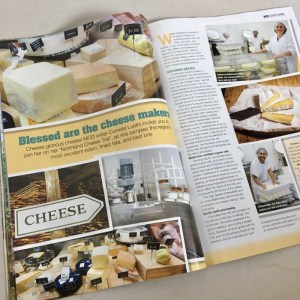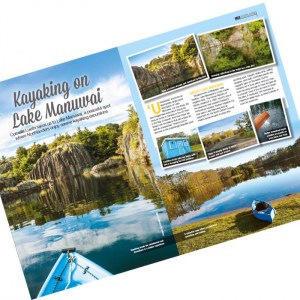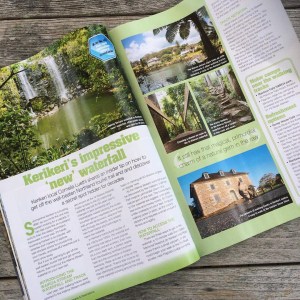 What's the cost of the article writing service?
Here's where you can find prices for article writing and other types of content writing.
Here's what customers have said about my article writing service:
"The results exceeded my expectations. I can write from an informed point of view here, as a number of months have passed since the completion of the website writing and article writing. The feedback on the website has been 100% positive with an increasing number of people highlighting that they visit the site to read my news articles. And I'm finding that the Google rankings are moving strongly because of the search engine optimised content." – Barry Bridgman, Bridgman Property Management
"Cornelia writes the text for our newsletters and some website updates. She did a great job of taking our rambling thoughts and turning them into professional, easy to read copy. We've had a good reaction and it has had the desired effect of prompting some existing clients into starting new projects with us." – Nigel Smith, Transformer Design