Is your business amazing at solving customers' problems?
But do you struggle to communicate your awesomeness?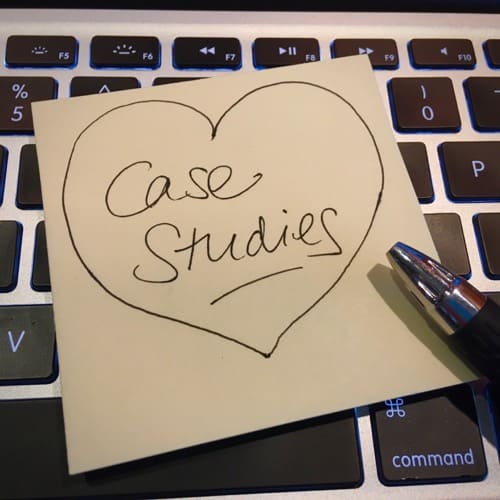 Case studies are a customer centric and very credible way of demonstrating how your business adds value.
Because the story is told from your customer's point of view, a case study has a more impartial tone to it. So if you like non-cheesy marketing, this is a great technique to use. And it's particularly effective when you have a complex product or service that's hard to explain in a one-liner.
I can help you with case study writing, so you have compelling marketing stories. The case study writing service includes interviewing key staff/customers, and telling their story in a way that's succinct and effective.
Here are some tips to help with creating powerful case studies:
Tip #1: What's the purpose of each of your case studies?
Think of the key message you want to communicate in each of your case studies. Ideally, each case study would demonstrate a different skill or solution, rather than repeating the same message over and over.
Tip #2: Use consistent sub-headings in your case studies
This makes it super easy for readers to comprehend exactly what you did, and how it helped your customers.
Tip#3: How to get maximum mileage from your case studies
You can use the case studies in many ways:
On your website (hello SEO! This is a great opportunity to use keywords you haven't used elsewhere).
Link to them via social media.
Use them in sales presentations as printed handouts.
Add them to your proposals.
Case studies are an investment that have many uses, and for years to come.
Contact me to discuss your case study writing needs →
Here's just a small selection of case studies we've worked on for clients recently: