Writing website content is a bit like singing:
a lot of people think they're good at it, when the reality can be a little bit… different.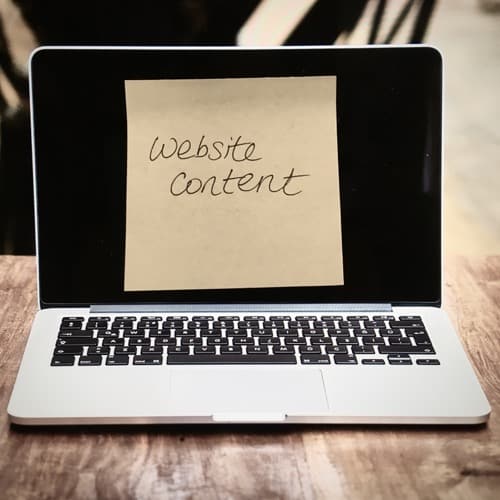 While it's easy to notice an amazing singer, it's a bit trickier to identify awesome website copy. That's because website content has a really hard job because it needs to achieve so many things. It has to:
Grab visitors' attention in the first 7 seconds, or they'll hit the 'back' button on their browser. That needs a combo of good design, zingy words, plus trust-building factors so your website looks like the real deal.
Utilise SEO (search engine optimisation) techniques, so that search engine users can find your website. After all, what's the point of a website that no one can find?
Convince people to take action. Whether it's signing up for your email newsletter. Or following your Facebook. Or buying something from your ecommerce store. Or requesting a quote. You want people to do something.
Writing website content that does all of these things is a complex job. And unless you've mastered all of these things, the DIY approach can cost you significantly in terms of lost sales and enquiries. Truly.
I've gained a reputation for getting solid results for clients with regard to their website copy, and consistently so.
Website content writing service: choose from à la carte or the whole hog
À la carte website content – the one-page-at-a-time approach
This is where I work on one web page at a time.
We'd start with a briefing process before I dive into the keyword discovery and writing the website content.
This approach works well if you want to try me out; only have a few pages that you'd like worked on; or if your budget is stretched. If you'd like me to work on an entire website, then the 'big buffet' approach will be more cost-effective in the long run.
'Whole hog' website content writing
This is where I'd re-write your entire website as a project.
Again, the work starts with a briefing process. Followed by competitor research and writing a detailed keyword brainstorming document. This is followed by an in-depth keyword research exercise, which allows me to then compile a keyword strategy for your website. Once you've approved the keyword strategy, I get stuck into the writing work. (I'll guide you through the process, step-by-step as we go… it's kinda like having the entrée, main course, and dessert of a meal in the right order.)

This 'whole hog' approach is best when you're really serious about your website presence, or when you're developing a new website.
Bonus: extra keywords!
What's more, during the keyword research process, I usually find far more keywords than can realistically be used for SEO. Which is great, because that gives you focus and direction for search engine optimised blog articles! For example, if you discover there are 900 people every month looking up, say, 'flying pig services', and you're in the business of porcine aviation, then you need a blog or web page that talks about that!
What's included in website content writing?
Whether you go for the à la carte (one page at a time) option, or the whole hog, you'll receive a Word document that contains:
The visible content for the web pages: This would be written in a customer-focused manner, with headings, sub-headings and bullet points as appropriate, to make the copy visually-enticing and therefore easy to read. I consider one website page to be a maximum of 500-700 words (that's about two A4 pages in a Word document). For good search engine rankings, each page on your website should be a minimum of 300 optimised words.
Heading styles: The heading styles (H1, H2, etc.) would be indicated.
Behind-the-scenes meta data: the Page title and meta description.
Calls-to-action: a clearly defined 'next step' for your prospects, to encourage them to take action.
Photograph SEO: I'm going to assume you'll have a photo on every web page – not only does it add interest to your web page, it's an important place where you can use keywords. So I'll provide a keyworded file name, ALT tag and caption.
Revisions: Up to 2 rounds of revisions are included (if needed), in addition to the original copy.
To sum up…
You'll receive targeted, compelling website content that includes not only the on-screen text that your customers see, but also hugely important behind-the-scenes stuff called meta data that search engines use to help decide your ranking.
See here for website content writing cost.