My work centres around SEO copywriting – also known as on-the-page search engine optimisation. That's because it's the stuff that happens on your web pages. While it's an important part of SEO, there's more to it than that.
Here's a brief overview of the SEO jigsaw puzzle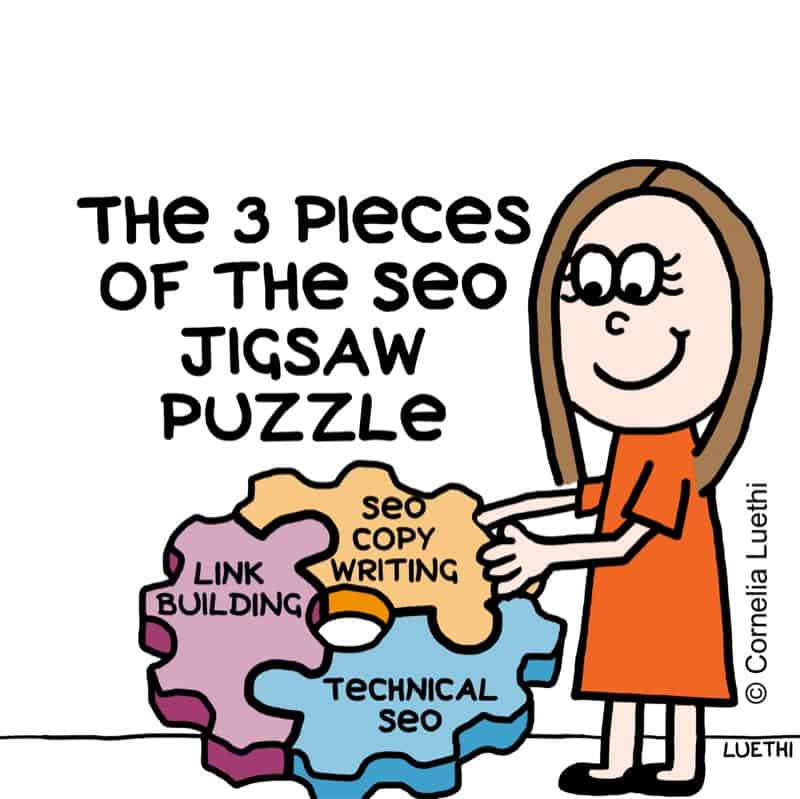 1. On-the-page SEO (SEO copywriting)
SEO copywriting is important, as it helps search engines to recognise and analyse what your content is about. This improves your visibility on search engine results pages, which translates into more clicks to your website.
SEO copywriting is my area of expertise, and covers:
Keywords: i.e. keyword research and keyword strategy.
Optimising the page content: not just the body copy, but also the headings, images, and so on.
Writing behind the scenes meta data: This is not only for SEO, but also helps with clickthroughs from search engines. This is because the search engines use this text in the search results, so it needs to be compelling to encourage clicks.
2. Technical SEO
This type of SEO is up to your website developer to implement. It's important to note that your website designer may not also be a website developer – they are two very different roles and skills. Therefore it's possible a web developer may need to be engaged.
Note: Don't worry about understanding all the jargon below. You don't need to understand it: the main thing is that your website developer does!
The website developer should identify which aspects of technical SEO are required. This covers:
Site speed optimisation: for example, optimising images and fixing any code so that the website loads faster. Site speed is an important ranking factor for SEO.
Mobile optimisation: Google takes a mobile-first approach to indexing, so make sure your site passes Google's mobile-friendly test. In particular, make sure pop-ups don't obstruct the user experience, and ensure all links and forms work properly.
Structured data: Use schema.org and JSON-LD script to communicate structured data to search engines. This helps a site to be eligible to feature in Google's rich results, such as featured snippets, local listings, reviews, site links, etc. These can be tested on Google's Rich Results Test, and also the Google Structured Data Testing Tool.
Redirect codes: for example, 301 redirects may need to be crated for permanent URL changes. This is common when websites are redesigned or refreshed. (The copy I've written will indicate when these are needed for pages I've worked on.)
Canonicalisation: Handles duplicate content issues.
Robots.txt: This tells the search engines if there are any pages you don't want crawled.
Please speak to your web developer about all of these aspects.
It's important they're clear on your website goals, so they can optimise accordingly.
Also, make sure they create an XML sitemap and upload it to Google, both for new websites, re-launched websites, or when you add new pages. Some website technology does this automatically, but it's best to double check this with your web developer.
3. Link building (backlink strategy)
Backlinks (i.e. links to your websites from other websites) are one of the most important ranking factors for Google. However, it's crucial that these links are coming from high quality websites with a high level of domain authority. And unfortunately, getting these high quality backlinks is getting more difficult than ever.
This is the kind of activity an SEO company may be able to help you with. But tread cautiously here – there are plenty of cowboys in this industry. Be sure to speak to current and past clients in their portfolio before engaging any.
Also, note that you may only get results from the SEO company while you're paying them a monthly fee. Results may drop off after that. And don't let them mess with the on-the-page SEO: clients of mine have done that, and regretted it. Although their sites got more traffic, it was low quality traffic that didn't convert. This is not what you want!
Measurement
You need to be able to measure how your website is performing against the goals you've set for it. To do this, you will need your web designer to set up and give you access to:
Google Analytics.
Google Search Console.
If I'm working on your website copy, I would appreciate having access to these too, so I can help with any analysis work.
And if you'd like me to compile monthly reports on how your website is performing, please get in touch.
---
Next step: Contact me about your website copywriting needs.