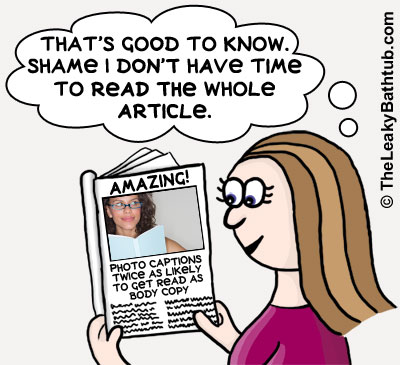 A dentist I know uses the catchline 'only floss the teeth you want to keep'. Yes, dental humour is quite, um, unique, but I guess the dentist was fed up with his clients complaining that flossing is a tedious chore that they forget to do.
Flossing is one of those chores that we know we should do, but it's just not very appealing.
These non-appealing chores aren't limited to dentistry; they exist in business life too.
A complaint that I often hear from my clients is that it's tedious to write captions for photos in marketing materials… but the same kind of logic applies as the dentist uses:
"Only write captions for the photographs you want readers to remember"
Eh? What have photo captions got to do with memory? A lot, actually.
It's been proven that readers are twice as likely to read a photo caption as they are the body copy of your marketing piece.
What's more, the combination of photo plus caption gives your marketing piece really strong visual branding. The photo and caption combo help to lock your message into the reader's brain. It captures people's imagination far more than words alone do.
Photograph + Caption = Visual Branding Extraordinaire!
This visual branding is something I've been testing myself
The eagle-eyed readers amongst you will have spotted that not every article on my blog has an image (gasp!). It's a work-in-progress: I'm gradually adding images (usually cartoons) for each article.
Naturally, I want to promote the articles that I've written. (Even the ones without images.) So I've got a neat gadget on my website that automatically posts links to my blog articles on Twitter every couple of days. And I've noticed that it's the blog posts with images that are getting more "re-tweets", more mentions, and more web traffic.
A coincidence? No, I don't think so. The articles without cartoons are just as well-written and insightful as those without cartoons… but the visual imagery of the cartoons creates a far stronger visual impression than words alone. And yes, the cartoons have captions.
But I don't have time to write captions…
You don't have time to write one little sentence? Really? That's all that a photo caption is: one sentence! And remember, this little sentence is twice as likely to get read as the whole page of blurb you've just written. So I strongly suggest you take the time to write that one measly sentence!
But photo captions look ugly; they ruin the design…
Admittedly, sometimes photo captions don't look so hot. If that's the case, you need to have a wee word with your graphic designer. Or if you're DIYing, get a graphic designer to help you, or else look at materials that do make good use of captions, to get you inspired.
Remember, your marketing piece is there to sell, not just to look pretty. Insist that captions are used; it will be worth it!
Like the idea of captions but don't know how to write them?
Stuck on how to write photo captions? That's something we'll look at in the next blog post. We'll look at what should be included in a photo caption, so that you can write photo captions with confidence.
After that, you'll be able to confidently write photograph captions for every photograph you want your visitors to remember. So be sure to keep an eye out for the next installment of this blog! 
Summary:
Photo captions are twice as likely to get read as the body copy of your marketing materials.
Photograph + Caption = Visual Branding Extraordinaire.
The visual branding helps to lock in the message you're communicating.
---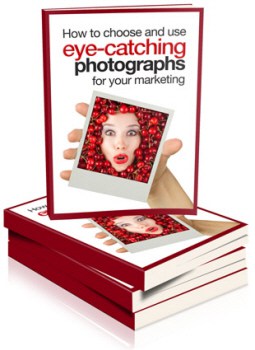 Want more tips on how to use photographs to help increase sales?
Then check out my eBook, 'How to Choose and Use Eye-Catching Photographs for your Marketing'.
The eBook has a whole chapter on writing memorable photo captions, plus other little-known tips on making your marketing materials more effective.