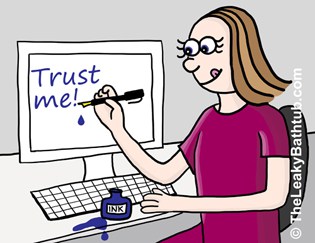 Do you remember the last time you had to sign a document? It may have been a contract, or a form, or something authorising a payment (e.g. a cheque or Direct Debit).
Signing your name makes something feel quite official, yes?
Even if you didn't read all the small print in detail, you just know that when you sign something, it had better be correct. You know for sure it's something serious and binding.
What does signing your name have to do with websites?
Websites are tricky beasts, in that a potential prospect will decide in 7 short seconds whether they'll read your site further, or if they'll hit the 'back' button on their browser and go to a competitor's site.
Therefore you have mere seconds to communicate that your business is trustworthy and reputable. Adding a signature to your website is one of the tools you can use to help with this: it's a powerful, visual way of building trust.
What does a signature on a website do? A signature tells us that:
There is a real person behind the business.
This person is willing to sign their name to what they say… which in turn ads gravity to what it says on the website.
… and it does these things within a very short space of time.
What's more, a signature is also very unique. A signature can even become a brand element that will let your business stand out against your competitors. It's a very powerful branding tool – and also a very inexpensive one!
Example of a signature on a website…
Yep, I use the 'signature on a website' tactic myself: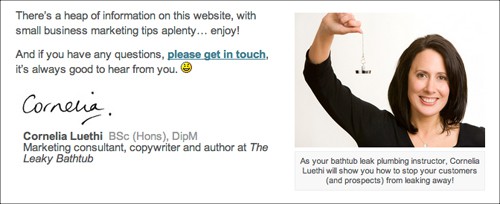 Now that you can see what you're aiming for, here's how to implement your own website signature…
Tips on adding your signature to your website
1. Sign your name in a good quality, black pen on a clean piece of plain paper
Do not use your "official" signature, e.g. your credit card signature!
Use a good quality, black pen. My personal preference is for a pen with gel ink, or a fountain pen, as this makes a good, solid line. Ball point pens don't have a smooth ink flow, so the result can look blotchy. And a thick pen (like a marker pen) will look too chunky and overbearing.
Your signature needs to be legible, or you won't succeed at building trust. (Illegible signatures make it seem as though you have something to hide.)
Use your first name and last name, or just your first name. Do not use initials. Initials look too formal, or though you've got something to hide. For example:

Good: Joanna Smith, Joanna
Not recommended: JS, J Smith.
2. Scan your signature to digitise it
You'll need the signature in a JPEG or PNG image file.
3. If necessary, enhance your signature in image editing software
Make sure the black is nice and crisp; the white background clean. If necessary, rotate the signature so that it is level.
Then save your signature in a website friendly format. Your signature graphic should be a small file size, so it's quick to load, but still good quality so that it looks crisp and sharp.
4. Add your signature onto your website
You can add it onto as many pages as your like – the list below is a minimum:
Home page
Sales pages
Contact us page, as it is important to humanise this page: all too often, Contact Us pages are very abrupt and not very compelling! Adding your signature – and your photo – makes the "contact us" message more personal and thus it's more enticing for prospects to contact you.
5. Type your details under the signature
Underneath your signature, type your name in full and any recognised qualifications you may have.
Then on the next line, add your job title and company.
6. Add your photo
Use your photo, too – like I did in the example above. (See some tips for cringe-free business portrait photos.)
Is this signature-on-a-website tactic relevant for all businesses?
In my view, adding a signature onto a website is a worthwhile tactic for all small business, whether you're a solopreneur, or have a handful of staff. After all, why wouldn't you want to build trust on your website? It's simple, deceptively powerful – and very cheap to do!
Also, it's a tactic that's relevant for all types of industries, whether you're business-to-business, business-to-consumer, selling products, or selling services.
Even large corporations can benefit from this approach. Just look at how Richard Branson has plastered his name over his various Virgin companies (encompassing airlines, trains, telecommunications/internet, record label, wine merchant, radio stations, financial services – and a whole lot more besides).
By adding his name (and the flamboyant personality that goes with it), the Virgin Group has a unique brand. The Virgin Group of companies have a very different vibe to their clinical-looking, staid, corporate competitors.
Why looking "corporate" stifles your business
Some of you reading this article will be appalled that I'm suggesting adding a signature to personalise your business. A common objection I hear to this tactic is, "but I want my business to look serious and corporate. Adding a signature and photograph just makes my business look small and amateurish".
Here's my view on the desire to look corporate…
During my time as a Marketing Consultant in the UK in the late 1990s (a time when the economy was strong), I met many business owners who did not like their business being called a "small business" or an "SME"… even if that's exactly what they were.
These business owners thought that it was all about size. Indeed, such business owners considered the use of the word "small" was an insult to their ego; to their stature in life; to their importance.
Consequently, these size-challenged business owners wanted their marketing materials to emulate the corporates. Yes, they actually wanted their materials to be faceless! They wanted to focus on the "brand", and not on people.
What's the result of "corporate-looking" marketing?
All of these corporate-looking marketing materials were dull, faceless, bland and interchangeable. The copy was jargon-riddled nonsense. The photographs were generic stock library images.
You would have struggled to tell one company's marketing materials from the other!
In these days where many small businesses are still struggling with the after-effects of recession, competition for your prospects' share-of-wallet is tougher than ever. What's more, with increased use of technology, many small businesses now have to compete against overseas suppliers (who are often able to supply at a lower cost), as well as local competitors. Business life is tough!
So, in these days of hyper-competition, do you want your business to look dull, faceless, bland, and unmemorable?
Or do you want your business to stand out; be unique and memorable; and start building meaningful relationships with your customers?
It's your call… but I know which approach is likely to yield the better results.
Summary
The benefits of adding your signature to your website are that:
Using your signature on your website is a visual tool that instantly builds trusts and adds credibility. (Signing your name = a commitment to what you're saying.)
Using your signature helps you stand out from your competitors. Based on my experience, I'd say that most of your competitors won't have the balls to add a signature in such a public way, so that's another thing in your favour!
It adds personality and depth to your message, in a way that a logo by itself will never do.
It lets prospects and customers know that there's a real person behind the brand. Not only does that build trust and credibility, but it's also the beginning of forming closer relationships.
This is ridiculously easy and cheap to do!