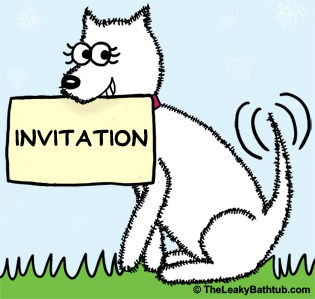 Face-to-face interactions are a great way to deepen business relationships. While one-on-one meetings are well and good, often it makes sense to organise group events.
(There's more on that topic here: Discover the 4 different ways in which you can grow customer relationships face-to-face.)
So how should you go about organising group events?
This is something that my consulting clients often ask me; here's a summary of the best tips I've learned over the years…
1. What's your strategy for the event?
Think carefully: why do you wish to host an event?
Is it to attract new customers, by giving them a glimpse of what you do? E.g. via a seminar or workshop.
Is it to reward loyal clients? E.g. by giving them VIP access/information on a hot new product or service.
Or do you wish to reward loyal clients AND attract new customers? E.g. by allowing your VIP clients to invite a friend along to the event.
It's important that you consider this reason all the way through your event planning, to ensure that the event will achieve your goals.
2. Will the event be free or is there a price for attendees?
If the event is there to reward loyal clients, it would be rather rude to charge them to come along… unless there is a good reason.
However, if the event is to attract new clients, you need to decide whether to make it free or not. You may think that it must be free, to attract new clients, but "free" has 2  problems:
People don't value free. You're far more likely to get no-shows and last minute cancellations for free events.
Free appeals to the bargain hunters; there's a good chance you'll get people there who'll suck up every piece of information you pass their way… but they flat out refuse to pay for anything. This can mean low conversion rates and low sales.
Sure, if your event is just a sales pitch, then free is appropriate. However, my suggestion would be that you make the content helpful and to charge a fee for attendance. You'll most likely attract a better calibre of attendee.
Extra tip: In some regions and cultures, such as here in Auckland, it can be really hard to get people to commit to attending an event way in advance. If that's the case, consider offering a discounted Early Bird price, for people who book by a certain date.
(Of course, it's not a 'real' discount; the Early Bird is your actual price, and the price thereafter is an increased price.)
Here in Auckland, it's not unusual to see 75% of attendees choosing the Early Bird option, with the remaining 25% booking in a day or two before the event itself. (And events with Early Bird discounts generally sell more tickets than events without Early Bird discounts.)
If you live in a place where prospects are fickle, offering an Early Bird discount can save you a whole lot of stress. At least with your Early Bird sales, you know that a certain number of people will be attending. Imagine if you made all your sales just a day or two before the event? That would be very stressful, and it may even be tempting to cancel the event for the fear that no one will come!
3. Who will you invite?
There's no point having an event if you've got no one to invite! Attendees may come from:
Your own client or prospect list.
Strategic alliance partners.
Clients and prospects of your strategic alliance partners.
People in your networking groups.
Spending some time and effort on this is vital. I've seen too many business owners get enthused about hosting an event, and then get stuck on the "who to invite" part. Get some things happening in this area, before you go any further into organising the actual event.
Consider too the mechanics of the invitation: will it be by email, or by snail mail (e.g. a special printed invite, or a letter)? The format of the invite needs to be appropriate to your objectives for the event.
4. Where will you host the event?
You'll need a venue to host the event: somewhere budget-friendly but professional. As well as the price of the venue hire, you'll need to consider:
Do they provide seating? What's the capacity? And will the seats be arranged in your preferred layout?
Will you have sole use of the area?
Is the venue quiet enough, or are there noise issues to contend with? (It's surprising how many function rooms have high levels of kitchen noise, or noise from other patrons.)
Do they provide any audio-visual equipment, or will you need to hire it?
Can they provide tea, coffee, water, etc. for your guests?
Is car parking available for your attendees?
5. When will the event be held – and for how long?
The issue of timing can be tricky: should you have your event in the morning? An afternoon? An evening? At a weekend? And should it be 2 or 3 hours, or a whole day?
I'd suggest the following plan of action:
Look at what your competitors are doing. If they run successful events, they may have tested and measured different times, so observe and learn from this.
Make an educated guess, and shortlist 2 or so different scenarios. Then ask your target profile people what they'd prefer, and why. Go with the general consensus of opinion.
After the event, review and analyse how the timing worked out. If you think it wasn't quite right, try something else the next time, and see how that compares.
All you can do is to take an educated guess, and then test and measure.
6. How will you manage the bookings?
You have two main options for managing the bookings:
You could do it all manually, where people have to phone/email you, and you log them on a spreadsheet and get all their contact details. (And then do any follow ups manually as well.) This is very time-consuming.
You could use an event booking system, where people register online (and pay online, if there's a charge). You can then use the online booking system for email or SMS follow-ups. You can also set a maximum number of attendees to prevent over-booking. The system could even handle Early Bird discounts for you. It may even pre-prepare an attendee list or name badges. There may be a small charge for the booking system, but it will save you an immense amount of admin time.
I know which option I'd go for! 😉
7. Sell sell sell!
The easiest way to let people know about your event is to make a website page with all the information, and have a link to the online booking system.
The beauty of the web page is that you can link to it (e.g. from emails, blogs, social media profiles, etc.)… it's an easy way to make the information accessible. Plus, if you have Google Analytics installed, you can do some measuring around referral sources, conversion rates, etc. This may be invaluable if you're holding more events in the future.
In some cases, it may also be worth making a flyer (printed or in PDF format) that you can email to people, or hand out at networking meetings.
Whether you choose to go the online route, flyer route, or both, the most important thing is that you promote the WIIFM ("What's In It For Me" factor). What will attendees get out of it? Why should they give up precious hours in their day to come to your event? You need to make the event as enticing as possible.
8. Promote promote promote!
You've now got the nuts and bolts in place, i.e. an online booking system, a web page, and maybe some flyers… but your job does not end there, oh no.
Now you need to promote the event – and promote it hard.
Go back to your list of invitees and go through it… and at least 2 or 3 times:
Promote/invite people as soon as you're ready.
Send another reminder before the Early Bird discount finishes.
Send another reminder just before the event (if there are still seats left).
Get your strategic alliance partners to do the same, if possible. And use other channels (e.g. networking meetings, social media, etc.) continuously.
Even if it's an event for VIP clients, follow up with the people who haven't replied.
Bonus tip: One client I worked with a while ago was totally stressing about (a) no-one showing up; and (b) being over-booked for a VIP client event. She didn't know what was worse, and was very flustered.
So I got her to draw up 2 invitee lists: the A-list consisted of her very top tier clients, and they were invited first and foremost (and followed up with, to get a definite Yes or No). Once that list was exhausted, the B-list clients were invited, one at a time. This way the client was in total control of the numbers.
The result? Every seat in the room was taken. The evening was fun and a huge success. And my client was very happy… and her clients were talking about the event for months afterwards. Hurrah!
9. Plan and prepare materials for the day
There's a huge amount of work involved in this section. The materials you'll need will depend on the event itself. Chances are that a workshop or seminar will require a lot more preparation than fun client events that rewards your VIP customers.
Here are some of the most common things you'll may need to prepare; just pick and choose whatever's appropriate to you:
Signage: Print out some signs that you can stick up with BluTak so that your attendees will know exactly where to go. It's annoying for people to arrive at an unknown building and not know where to go. Make it easy for your attendees to find the function room, especially if it's tucked away.
Registration sheet: So that you can mark attendees as they arrive. That way you'll know if everyone's there who signed up… or if there are no-shows. If you have someone helping you on the day, get them to do this, while you make sure that everything else is set up and ready to go. (Because if you're stuck at the front desk, you'll be fretting about the computer and overhead projector not being set up yet.)
Name badges or stickers: Yes you may feel dumb wearing them or dishing them out… but by gosh it'll help attendees mingle more easily!
Run sheet with timing: This is particularly important if there's more than one speaker.
PowerPoint presentation: make sure it's an interesting one, and not dull or information overload.
Email newsletter sign-up forms: so that you can follow up with prospects).
Feedback forms: these are vital for seminars and workshops. Make sure that you write these in a way that'll let you get Testimonials that you can use in your marketing (with permission from the attendee).
Things to sell there and then: This could involve products, services, special packages, special offers… whatever you choose. Make it easy for people to buy. You may need to prepare order forms. And be prepared to accept payments there and then – so you may need to organise a credit card machine.
Take-home kits and goodie bags: These may contain marketing materials, a brochure, a copy of presentation slides, branded goods or fun gifts.
Presentation tools and stationery: This may include: laptop computer, power cable for the laptop computer, USB stick with your presentation on it (in your computer decides to malfunction, and someone else has a computer you can borrow – this may sound extreme but it's happened to me!), projector, projector screen, a table for the computer and projector to stand on, remote clicker, iPod, speakers, microphone, electrical extension lead, electrical multibox (ideally one that's surge protected – that's another lesson I learned the hard way!), flip chart stand, flip chart pad, flip chart pens, pens for attendees, note pads for attendees, props, a clock to keep you on time, BluTak, camera, etc.
Food and drink: My motto is that "everything is better with food"… provided it's good food. If I'm hungry, I get grumpy (as do most people). You don't want grumpy attendees at your event. So keep them adequately fed and watered.
10. Can you leverage the event?
Oooh, 'leverage', what's that?
Basically, this is about using the event in some other way later, and would mean recording the audio and/or video.
Some ideas include:
Provide a video recording of the event to your VIP clients who couldn't make it. Either as a DVD or a link to where they can watch the website online.
Use a video or audio recording as a Bonus for your customers, e.g. on a special members-only section of your website.
Use a video recording as a sales tool on your website.
Record video testimonials at the event.
If you think that would help your business, make arrangements well in advance.
You'll also need a form that each participant must sign on the day, confirming that they give their consent for this indefinitely and without limitation. (Be sure to check they've signed the form, as you go round collecting them.)
11. Remember the reminders
Don't assume that everyone who's booked will turn up… follow up with the attendees.
I'd suggest emailing all the attendees with confirmation details a day or two before the event, complete with parking information, so they know exactly where to go.
An SMS (text message) reminder on the day itself is a good idea too.
12. Keep to time at the event
This sounds so obvious, but it's so important… if you don't stick to time, and don't cover all the material, it will be difficult for your event to meet its strategic objectives.
So manage your time well and stick to the run sheet. Don't let the participants take control away (well, not for too long)… you're in charge.
A friend of mine recommends putting an easy-to-read alarm clock on the table in front of you, so that you can always see it. This is a great idea, and your attendees won't even notice that you're keeping such a close eye on the time.
Also, an extra pair of hands on the day will be helpful. If you try and do everything yourself (presenting, AND setting up the room, AND handing round forms, AND recording video testimonials, AND setting up the refreshments, etc. etc.) you will struggle. Make sure you have at least one other person engaged to help you.
If the objective of the event is to make sales, by all means ensure that there is enough time for this! I've seen it too many times where people meander through their presentation, and then their sales pitch is rushed.
Do not over-run your time. You will severely annoy your attendees, and it's disrespectful to them. So let's not go there!
13. Follow up and follow up some more…
This is another area where business owners fall down time after time: either there are no follow-ups, or they're not done well, or they're left so late that the attendees have cooled off completely.
To get around that, have your follow ups prepared well before the event itself, so that you can implement them right away.
If it's a fun VIP event, thank your clients for coming. It's polite and classy to do so. Whether you do that by phone, email or snail mail is up to you… whatever is relevant.
For sales-oriented events, the follow-ups need to be more extensive. I'd suggest:
Emailing some value-added information right away to all attendees; AND:
Following up right away with the people who bought from you on the night. Thank them for their purchase, and tell them that you're there to help them if they have any questions. You can do this by phone or email – or both. AND:
Following up each attendee who didn't buy on the night with a phone call. Have a really good sales script ready, so that you stand the best possible chance of converting them. If they're reluctant to buy, ask some questions to find out why. If you're not comfortable with doing this yourself (e.g. I get the heebie-jeebies at the thought of doing that), consider engaging a telesales professional to do that for you. If they're any good, the learnings will be invaluable – and you may just get a sale out of it!
14. Review and analyse
Now that all the hard work is out of the way, what did you learn from the experience?
Did the event meet your strategic objectives?
Would you consider running a similar event again? What changes would you make?
I've met many business owners who are so enthused about running client events, that they don't sit back and take stock. I'd strongly recommend that you complete this full cycle before planning any more events.
For example, common issues are around the venue, pricing, promotion or timing. Or maybe the business owner forgot about the strategic objectives somewhere along the track. It's best to take a step back and remedy these things.
After all, organising client events takes a good amount of time, money and energy… so make sure you get the best possible return from them.
Summary
When planning events, consider:
What's your strategy for the event?
Will the event be free or is there a price for attendees?
Who will you invite?
Where will you host the event?
When will the event be held – and for how long?
How will you manage the bookings?
Sell sell sell!
Promote promote promote!
Plan and prepare materials for the day
Can you leverage the event?
Remember the reminders
Keep to time at the event
Follow up and follow up some more…
Review and analyse