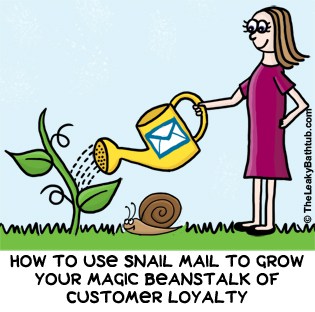 Sending things in the mail seems so quaint and old-fashioned now.. so retro! In the age of instant electronic communications, going to the effort of assembling a piece of paper, an envelope and a postage stamp – and then a mail box to post it – just seems like soooo much effort sometimes.
Little wonder that every so often news headlines appear, telling us of post office closures. This has been a news topic in many countries (New Zealand, United Kingdom, US, Switzerland, and more) for a number of years now.
So why send things in the mail? Is it just to keep the post offices open?
The reason why it's worth mailing things to your customers is because you get noticed. It's because very few people to bother assembling paper, envelope and postage.
Or if you do get something in the mail, it's probably an invoice, or a notification from your power supplier of a price increase. Or junk mail. Most of the stuff we get in the mail these days is either boring or negative.
How different things were when I was a kid!
When I was a kid, emptying the mail box at home was my favourite job.
Why? Well, every now and again I'd receive fun stuff! Maybe a postcard from a relative, or a letter from my French pen friend.
To me, the mail box was an item full of anticipation, excitement and fun.
My childish fascination with snail mail lives on…
I love sharing the fun of getting something nice in the mail. It's so rare to get something positive and uplifting in the mail these days – especially in a business capacity. So when you do, it really gets noticed.
And not just that, but it's also incredibly easy and cheap to do.
Can you think of a cheaper and easier way to add the "wow" factor?
Sure, emails are cheap (and as we've already covered, I really rate email marketing as a customer retention tool). But it just doesn't have the same "wow" factor as a nice goodie in the mail. Ditto the telephone… also a cool tool for customer retention, but often a conversation is forgotten as soon as the phone's hung up.
But with snail mail, you have the opportunity to put something real and enduring (and fun and positive) into the recipient's hands.
What kind of things can you send via snail mail to help with your customer retention?
The only limit as to what you can send is your imagination! Here are some ideas to get you started:
1. Printed newsletters
Email newsletters are cheaper to send, but for some industries (especially if your customer base is older), physically sending the articles works really well.
The key is to make it easy to manage, and to keep the costs reasonable. The coolest solution I've seen is a postcard that's a newsletter. Yep, it's a custom-printed postcard with a short article or tip, and it does the job. You could have pre-paid postage printed on it, and get your printer to do a mail merge. That way your admin time is minimal, as there's no envelope stuffing or labelling to do. Neat, effective and easy!
2. Postcards
Speaking of postcards, these are very versatile. You could send special offers, reminders, seasonal greetings… whatever you like.
My tip here would be to invest in some fab graphic design, to give your postcard the "wow" factor so it stands out. You want it to look compelling – and not like junk mail!
3. Thank you cards
Everyone likes to feel appreciated, so a thank you card is a nice gesture. Yes, it's old-fashioned, but, as the saying goes, "manners maketh man" (or woman). Sending a thank you card is a classy touch that will elevate you far above your competitors.
This is a topic that I love, so I've written a separate article all about how to get the most from sending business thank you cards.
4. Seasonal cards
Seasonal holidays are a great excuse to send something nice to your customers and strategic alliance partners.
Christmas is the obvious holiday of choice… but you don't have to do that, especially if you don't observe religious holidays.
A graphic design colleague of mine sends Thanksgiving Cards – and that really gets noticed, because Thanksgiving isn't observed in New Zealand!
You can find any excuse for a holiday; it could even be something related to your industry… there are plenty of silly, bizarre and whacky occasions to choose from, so you can choose whatever slots neatly into your marketing calendar. For example:
23 February: International Dog Biscuit Appreciation Day
1 April: International Fun At Work Day
14 April: International Moment of Laughter Day
18 April: International Jugglers' Day (also applies to multi-tasking office workers)
30 April: Hairstyle Appreciation Day
12 May: International Nurses' Day
26 June: Beauticians' Day
19 September: International Talk Like A Pirate Day
That's just for starters, you'll find plenty more weird and wonderful holidays here: http://holidayinsights.com/moreholidays/index.htm
5. Gifts
Yeahhhh… presents! Who doesn't like presents?!
Sending a prezzie of some kind adds an extra feel-good factor… and it can be easy and cost-effective. Especially if you choose something that can fit into a standard envelope. It could be a custom-printed corporate gift, such as a pen, notepad, pack of mints or sweets.
I've known other people to send packets of flower or vegetable seeds, magnets… or my personal favourite, chocolate! (Swiss, of course!)
You could also send gifts on dates that are important to your customers. For example, if a VIP client has just gotten married or had a baby, it's often appropriate to send them a gift. Or a female VIP client will always be delighted by receiving a bouquet of flowers on their birthday.
Again, your only limit is your imagination as to what you can easily implement within your budget.
Just ensure that your gift is of value to your recipient (no point sending something that isn't going to be appreciated), and is of an appropriate level of quality to match your business.
6. Reminders
Oh, this seems so dull a topic compared to gifts, but reminders sent in the mail are an important customer retention technique for many businesses. Especially the kinds of business where customers need to see you at set intervals, but they're infrequent. I'm thinking of things like car servicing and dental check-ups, or booster vaccinations for pets.
Sure, sometimes it makes sense to send these reminders via email or SMS (text message), but depending on your business type and customer profile, snail mail can sometimes be more effective. You'll need to test and measure the solution that's best for your business.
Remember to send snail mail to your strategic alliance partners!
It's just as important to thank your strategic alliance partners as it is your customers… if not more so. Strategic alliance partners can be your marketing goldmine, so make sure that they feel valued, appreciated and communicated with. (Don't let your competitors lure them away, just because you haven't stayed in touch!)
Summary
Because so few people send goodies in the mail, you'll stand out and get noticed when you use this as part of your customer retention campaigns.
Snail mail is a cost-effective way to give your customers the "wow" factor.
Things to you can send via mail to help with your customer retention include:

Printed newsletters
Postcards
Thank you cards
Seasonal cards
Gifts
Reminders

Remember to include strategic alliance partners on your mailing list, as well as your customers.