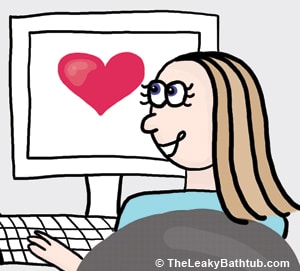 When prospects visit your website, they will decide within 7 short seconds whether they want to explore your site further – or if they'll hit the "back" button and look at a competitors' site.
A big factor in whether they hang around (or not) comes down to trust: but how do you do that in such a short space of time?
Here are the top ten ways in which you can build trust online:
Full contact details: include ALL your contact details – landline number, mobile number, postal address, physical address and email address.
About us page: this is a vital trust-building page, and should include details of key people within the company (with photos).
Memberships and associations: using logos of organisations you're a member of (assuming you have their permission) is a quick visual way of building trust and credibility. This includes membership of business groups such as BNI and Chambers of Commerce, as well as any industry-specific associations.
Professional website design: because professional companies need to look professional online. This is about having web pages that are well laid-out, and with an appropriate colour scheme and fonts.
Professional logo design: your company's logo should appear on the site, so make sure your logo has been professionally-designed. A poorly-designed or dated logo doesn't help with building trust.
Professional photographs: it's not unusual to see small business websites that are generally quite decent, but then ruined with amateurish photography.
Well-written content, with correct spelling, punctuation and grammar: when people look at a website, all they can judge your business on is based on what's in front of them. So the smallest details take on a big significance… and that includes the accuracy of the writing.
Testimonials: client testimonials are a vital tool in building trust. Make sure your website has a top-level page dedicated to testimonials.
Up-to-date content: have you ever looked at a website, and wondered if it's up-to-date? Don't let this kind of doubt creep into prospects' minds. A quick way of communicating that your site is current is via the copyright details in the footer of each page. For example:


Copyright © ABC Company 1995 – 2021.


This quickly tells readers that (a) you've been in business for a while, and (b) that your site is up-to-date. How easy is that?!
Easy-to-use and logical navigation: make sure your site is easy to navigate. If your website is confusing to use, it may frustrate users and affect your company's credibility online.