Need to write a good headline – but don't have time to suss out a bunch of different headline writing techniques?
Here's an easy way to write a decent headline in 3 simple steps:
Summary: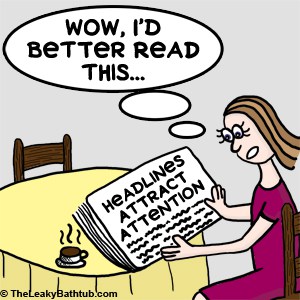 There are lots of headline writing techniques out there, but this one is probably the easiest to learn… and it works really well.
Step 1: Ask a question
Step 2. Use the word 'you' in your question
Step 3: The question should address a problem that your prospect is experiencing
Example: the intro to this video uses this technique! It is:
Are you struggling to write an attention-grabbing headline?
Next time you need to write a headline, see if you can use this headline writing technique.
Then, review your existing marketing materials (printed and online) and give them a re-vamp by writing a catchy headline.
PS. Yes, this is me, Cornelia, in the video!
This is my very first attempt at a video blog – or 'vlog' as it's called.
It's filmed on my iPhone using techniques learned from iPhone Video Hero… you can get a FREE eBook on iPhone Video Marketing here.