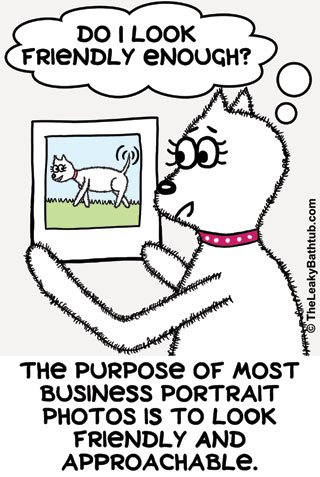 Do you find that an out-of-the-blue interaction with a nice, friendly, cheery person can make you feel all smiley and glowy inside?
That's how I used to feel whenever I parked in my favourite multi-storey car park in Auckland CBD.
For inside this grey, gloomy building was a cosy pocket of warmth – known as the payment booth. An elderly (and generously proportioned) Pacific Islander lady with white hair and a jolly disposition resided in this booth. It seemed that no matter which hour, or which day, I visited the car park, she was always there. And always knitting. And always ready with a big smile.
In fact, I always used to look forward to paying for my car parking fee, knowing that the jolly Islander lady would be there! A sincere smile and chat with her made my day.
One day it all changed…
One time I arrived at the car park to discover that the barrier arms at the entry at gone. And Pay and Display ticket machines had been installed. And – horrors! – the payment booth was covered in metal shutters. Ugh!
For me, the whole vibe of the car park changed instantly. Instead of feeling safe, protected and looked after, it now feels cold, impersonal, and almost creepy.
It's the personal touch that makes a difference
It's the personal touch that can transform a routine transaction into something more pleasurable. Maybe even a relationship of sorts.
After all, that's why people like to do business with other people
We all know this, but in this world of computers and websites and email, many business relationships veer more towards the impersonal rather than personal, warm and friendly. Yet friendly faces make us relax, smile and feel good about ourselves!
Wouldn't you like a bit more warmth and friendliness in your working day?
Here's an easy way to make business communication more personal…
It's easy… you use a portrait photo of yourself in your marketing communications!
But I don't look attractive enough to use a photo…
This is something I hear quite often from business owners. They think that they're not attractive enough to use their photograph.
But here's the thing: no-one expects you to look like a supermodel. (Heck, it would be a scary, intimidating world if everyone did look like Heidi Klum!)
Rather, it's about you looking friendly, and approachable – and like you. That's it. Nothing more and nothing less. Truly.
But I'm not very confident about how I look…
You and me both!
So before I had my profile photos taken, I spent some time with my beautician and hairdresser in order to look the best I could. And the photographer I engaged was excellent: she specialised in portrait photos (she'd even won some awards) and I really liked the shots in her portfolio.
How you pose in a portrait photo is important too, because the body language is so important. Here are my tips on how to pose for portrait photographs.
In short: with a bit of preparation, you'll end up with shots that you will be happy and comfortable using.
You've got the photographs – now what do you do?
The photographs are no good sitting on a CD or on the hard drive of your computer, oh no! You need to use them!
Me personally, because I felt very uncomfortable about putting my photograph everywhere, I did it in stages.
Step 1: Put your portrait photograph on your website
Putting your portrait photograph on your website immediately adds warmth and credibility – and builds trust. Visitors like knowing that there's a real person behind the business: dealing with a faceless persona just feels weird.
The key pages to add your photograph to are:
Home page
About page
Contact page
Sales pages.
There were unexpected benefits of using my photograph on my website…
I must admit that I didn't really think about how putting my photograph on my website would benefit or affect me. In fact, I wasn't really sure what to expect – I didn't think it would make a difference to me, only to my website readers. Wrong!
After I started using my photo on my website, I'd notice that when I met prospects and new clients for the first time, they were noticeably friendlier to me! Not that people are normally unfriendly, but because these people had seen my photograph (and read about me), they felt like they already knew me a little. It's a huge ice-breaker and rapport building tool!
I'm shy by nature, so it makes a big difference to me when the person I'm meeting for the first time not only recognises me, but also approaches me with a big smile. It's wonderful!
Step 2: Use your photograph in your email signature
I can't remember who suggested this to me, but I was very uncomfortable about using my photo in my email signature. It's not something that's normally done in New Zealand, and it just felt a bit cheesy and attention seeking.
But whoever told me to do it must have been very persuasive, because I did finally do it. And the results were very unexpected!
I instantly received an email from an A-Grade client saying how much she enjoyed seeing my photo in my email. She said that it made her feel like she was communicating with a real person, and that it took the impersonal nature out of emails.
Example: Here's my current email signature. I change and update the design quite often, but the photograph is the one constant: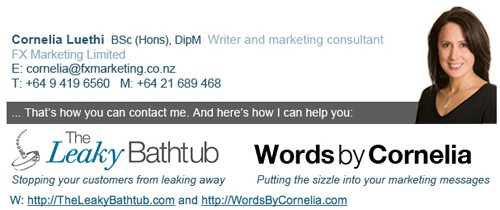 The wonderful feedback from my A-Grade client gave me the confidence to keep using my photograph in my email signature.
I've noticed that using my profile photo in this way is great for building rapport with new clients – just like it does on the website. That was one result I semi-expected, but I was in for another surprise.
The surprising thing I've noticed since using my photo in my email signature is that the replies I receive are somehow… nicer.
It's not that I'd usually receive lots of nasty emails from people, no. But because people see my face when they're writing a message to me, somehow their tone changes, just a little bit.
Seeing my photograph makes people aware that they're communicating with a real, live human.
And this slight difference in tone makes a huge difference to my day. We all like to be addressed in a friendly, courteous manner, so this directly impacts my happiness at work.
One thing's for sure: I'm no longer scared or hesitant about using my photo!
Step 3: Other places where you can use your profile photograph
There are other places where you can use your profile photograph too:
Other website pages: e.g. newsletter sign-up pages, download pages, etc.
Email newsletters: This adds a personal touch to your mass communications.
Business cards: This helps people to remember you long after the initial meeting.
Proposal documents: Put a friendly, personal touch to quotes and estimates. Think about it from the reader's point of view, who may find the document a bit scary and intimidating – especially if it's a high-value purchase. Wouldn't a friendly smile on the cover page warm you up to reading it?
Sales letters: I'll often include my photograph in sales letters to clients, as it adds that friendly, personal touch.
In short: you can use your profile photograph in the same places where you use your digitised signature.
Are there any places where you shouldn't use your profile photograph?
I do think that it's possible to take the profile photograph thing too far.
For example, a few years ago I received a fridge magnet for a mortgage broker with his photograph on. Do I want to look at his photograph every day when I'm making breakfast? Um, that would be a no!
We also received a Shopping List pad from a husband-and-wife real estate team (people we have no relationship or connection with). That went straight into the recycling pile.
While it's good to use your profile photograph to build a relationship, there is such a thing as being too "in your face", so some common sense is advised!
Remember, the aim is to add a friendly, personal touch… not to freak people out!
I wish that the multi-storey car park owners in Auckland CBD realised that their facilities now freak me out, and I park elsewhere that feels friendlier. 😉
Summary: benefits of using your profile photograph in your marketing
Benefits to your prospects and customers:
They trust your company/brand more quickly.
It helps to put them at ease and makes them feel more comfortable… dealing with people whose names and faces you know is nicer than dealing with an anonymous entity (or a machine!).
Benefits to you:
It can help to boost your sales conversion rates, or speed up the decision-making process, because your prospects trust you more (and do so more quickly).
It's a wonderful ice-breaker and rapport builder for meetings: people will feel like they already 'know' you, which puts both of you at ease.
People may communicate with you in a more courteous manner. It is easy to be rude or vent to an anonymous entity than a person whose name and face you know!
It differentiates your business and your brand against your competitors. There is no competition to be you!