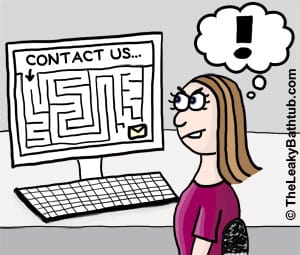 What action would you like your readers to take when they look at your website?
Do you want prospects to contact you? Perhaps to make an appointment, or to request a quote?
Some kind of "Contact Us" message is the main call-to-action on most brochure-style websites. So hopefully you've got calls-to-action sprinkled throughout your site. (And ideally in a way that'll appeal to both Decisive Dan and also Tentative Tom readers.)
But what happens when people visit your Contact Us page?
Is your Contact Us page carefully crafted to sound friendly and inviting?
Or is it a page that you quickly threw together to get it off your To Do list as fast as possible? (After all, how hard can it be to write a good Contact Us page?!)
It's kind of ironic that the most important page on a website is usually written without much thought…
It doesn't make sense when you stop to think about it, does it? If "Contact Us" is the primary call-to-action on your website, then you need to put a bit of effort in when you write a Contact Us page.
Here's a checklist of things you should include when you write a Contact Us page:
1. Friendly introductory blurb
Don't just go straight to the nitty-gritty contact details, as that can come across as being rather abrupt.
Instead, add a sentence or two right at the beginning of your Contact Us page that makes your company sound friendly and approachable.
2. Email address
Even if your website has an enquiry form, you should always always include an email address as well. Read my article to find out why you should include an email address.
3. Contact form
You should be aware that lots of people (a) hate filling out forms, and (b) have filled out forms, only to never hear from the company they've contacted. So treat contact forms with caution.
To make contact forms more user friendly:
ALWAYS specify how quickly you'll respond to enquiries. Will it be within 24 hours? Or 1 to 2 business days? Tell the reader! Also tell them what to do if they don't hear back within that time frame.This is really important. Contact Forms aren't perfect. By adding this blurb, the keenest prospects will get back in touch with you. (This happened to me just last week!)
NEVER use CAPTCHA – you know, those awful codes you have to input to prove that you're not a robot or a spammer. Most of them are totally illegible and incredibly frustrating. Read my rant about CAPTCHA – which includes a far better (and totally unobtrusive, human-friendly) solution.
4. Physical and postal addresses
Putting an address on your website is vital for building trust, as it shows that you are a real, actual business.
Now, here in New Zealand things are a bit quirky in that many businesses get their mail delivered to a PO (Post Office) Box rather than to their physical address. That's the norm here. I have no idea why.
But having  PO Box address is good for work-at-home businesses, like myself. A friend of mine, who also works from home, initially put her physical address on her website and business card, and then had an unexpected visit from a client – whilst she was in her pyjamas! Oops! In this scenario, by using a PO Box address you can still build trust, but without having to worry about strangers seeing your PJs.
Extra tips for businesses whose premises are visited by clients…
If clients routinely visit your business, there are some extra things you should do:
Opening hours: You would be amazed at the number of physical retailers that don't put their opening hours on their website. Craziness!
By appointment only: Don't have set opening hours? Then tell readers that they are welcome to visit, but must make an appointment first. That way they know where they stand, and what to do.
Car parking information: Visiting a business can be stressful for people, especially if they're not familiar with the area. It can also be incredibly frustrating to get somewhere and find out that there's no parking available, or that they need change for the parking meter.

Visitor Parking: make it clear if you have Visitor Parking, and what the procedure is for parking there (for example, does the space need to be pre-booked?).
Other parking: If you don't provide parking, tell readers where they can park, and if they need to pay for the parking, tell them what the payment methods are (e.g. cash, credit card, TXT-a-park, etc.). This is hugely valuable for people like me who never carry cash!
Time limits: Also, if there's a time limit on the parking (e.g. 30 minutes, an hour, two hours), let people know. You'd be making a very big negative deposit into your customers' emotional bank balances if they were to get a parking ticket, clamp or towed as a result of visiting your business!

Photograph of your building's exterior: Makes it easy for prospects to find your business.
Map: Ditto! My preferred tool is Google Maps… not only is it free, but their maps are also interactive and let users get directions… very handy!
Directions: If your premises are difficult to find, include written directions as well.
Public transport links: If your customers take public transport to travel to you, include this information. E.g.: bus route(s), location of nearest bus stop or train station, etc.
5. Phone numbers
Yes, list all of your relevant phone numbers:
Land line
Cell phone
Fax
Skype username.
If there's a specific number you'd prefer people to call you on (e.g. your cell phone, if you're always out and about), then:
(a)  Put your preferred phone number at the top of the list.
(b)  Make your preferred phone number bold and stand out.
(c)  Make it clear that that's your preferred number, e.g. by saying "this is the best number to call us on" next to it.
Also, if you prefer being contacted by phone than email, then put your phone number(s) nearer the top of the web page, and the email details below it.
(And likewise, if you prefer email contact, put your email address near the top of the page, and the phone numbers further down the page.)
6. Links to social media profiles
The Contact Us page is a good place to include links to your social media profiles:
Facebook Page
Twitter
LinkedIn
YouTube Channel
Pinterest
Anything else that you use!
Tip: set up these links to your social media profiles so that they open in a new web browser window (the HTML code for this is: target=_blank). This means that visitors won't be taken away from your company website.
You could include your Facebook Feed or Twitter stream here, but that's not essential.
7. Photographs of key contact people
Remember, the goal of the Contact Us page is to encourage prospects to contact you. And making your company look friendly and approachable will really help with that.
So be sure to include some staff photos on your Contact Us page. Photos help with trust building – and also help with building rapport.
If you have a Receptionist or Customer Services team, or other people who field most of the calls and enquiries, use their photos. A good caption to go with this kind of photo is:
"Mary Smith, our Receptionist, is the friendly voice you'll first speak to when you call us."
(The caption explains who the person is; and what their role is in the business.)
Or if you're a one-person business, use your own photo and write a suitable caption.
8. Signature
Finally, end the page with your signature, name and credentials.
This helps with building trust – you can read all about using signatures for trust building here.
9. PS message with a final call-to-action
Is there a really important message you'd like to remind people of before they leave your site? Then include it in a "PS" message at the end.
PS messages do get read, and if people have scrolled to the bottom of your Contact Us page (and haven't made contact), then point them towards some other useful content on your website. The person reading this message is likely to be a "Tentative Tom", so your job is to give them all the information they need to spur them into contacting you.
Here are examples of the final call-to-action you could include in your PS message:
Testimonials page: Want to see what our customers are saying about us? Find out here
Newsletter sign-up: Get all the latest tips for free! 
Free quote: Contact us today for your free quote: call
Resources: Get the inside tips…
Pick just one message in your PS… if there's more than one option, the reader will probably feel overwhelmed!
Summary
"Contact us" is the main call-to-action on many small business websites, yet many businesses throw these pages together quickly without much thought.
A good contact us page helps with conversions – and also helps to build rapport with your prospects.
Include the following when you write a Contact Us page for your website:
Friendly introductory blurb
Email address
Contact form
Physical and postal addresses
Phone numbers
Links to social media profiles
Photographs of key contact people
Signature
PS message with a final call-to-action
If you have business premises that you want your customers and prospects to visit, also include:
Opening hours – or by appointment only
Car parking information: visitor parking, other parking, and any time limits

Photograph of your building's exterior
Map
Directions
Public transport links